I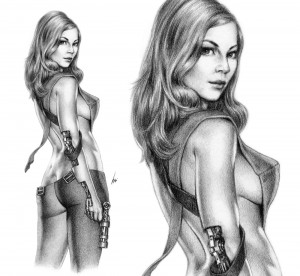 finally got this Andreas (Sherry Jackson) drawing up. It usually takes a little bit of time to get a drawing ready for display. I need to spray the drawing with fixative, scan the drawing, then cleanup the scan in Photoshop. So anyhow, here she is. Not a whole lot like Sherry Jackson. But you can't miss her in that costume. Andreas is the first in my Women of Star Trek illustration series.
For my second drawing, I will be drawing Magda, played by Susan Denberg. She is from the Star Trek Original Series episode "Mudd's Women." Doing a little research, Susan Denberg actually appeared in Playboy, as miss August all the way back in 1966. You can see it here if you like: Susan Denberg Playmate August 1966. Warning, nudity.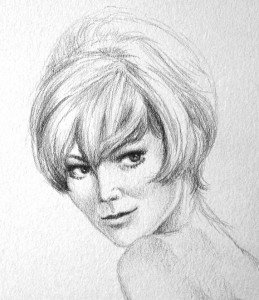 I've got a pose for Magda, and here is the start of the drawing. I tend to start with the face. I think most people do too. I figure the face is the hardest and most important part, and if I am going to screw it up, might as well do it early so I can start over.
I really dig the hair on her. It's a whole lot sexier than what we have today in my opinion. With this kind of cool hairstyle, I actually don't mind drawing the hair. Fun stuff.