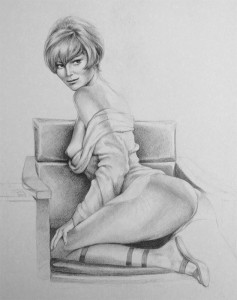 Here is an update on my Magda (Susan Denberg) drawing from the Star Trek Original Series episode Mudd's Women. Magda is by far the hottest of the Mudd's women. What else would you expect from a playmate!
This is my second drawing in my Women of Star Trek series. Here I have Magda posing in captain Kirk's chair! Should be interesting. I like how she is coming along, but the chair needs some thinking. The chair is rather boring and I am not sure how much of the chair will be fully rendered in. I think just enough to let the viewer know that it is the captain's chair on the Enterprise, and that should be good enough.
I am already thinking about my next Women of Star Trek drawing. Perhaps Nancy Crater as the Salt Vampire in the episode The Man Trap? I have this idea of doing a blend of her as Nancy and the Salt Vampire.
Or how about Barbara Babcock as Mea 3 in the episode A Taste of Armageddon. She is absolutely gorgeous and with that flowing rob of hers, it could be HOT!
Okay, I will stop now as I don't want to jump too far ahead or I might lose motivation to finish this Magda drawing.