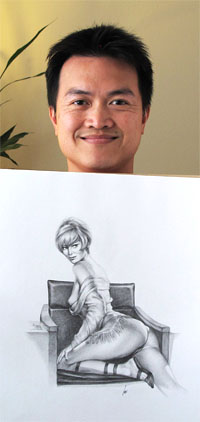 At last, it's done! I FINALLY finished my Magda drawing for my Women of Star Trek series. I have been putting off this drawing as I'm caught up doing my eBay stuff and setting up this blog. So this drawing really dragged on. Yesterday, I made a commitment and chained myself to the drawing table and finished the last 30% of this drawing in a couple of hours. And now I feel GREAT! That explains my funny smile in the photo. It is a great relief to finish things.
Now that it's done, this Magda drawing came out better than I had expected. Initially I didn't think her pose on Captain Kirk's chair would be too dynamic or interesting. But ultimately, the dark chair helped to pop her right out. Overall, I'm happy with this one. I will post this Magda drawing up once I get it sprayed and scanned it.
It looks like my next Women of Star Trek drawing will be of Mea 3, Barbara Babcock, from the Star Trek Original Series "A Taste of Armageddon" episode. She looks very elegant in that episode. Some ideas and images has been simmering in my head for awhile now for Mea 3. Can't wait to get that one going!