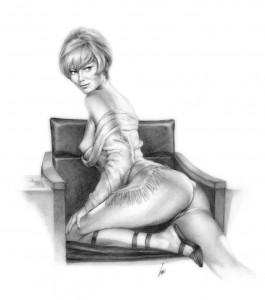 Okay, here is my Magda drawing for my Women of Star Trek series. Magda is played by Susan Denberg, a former Playboy Playmate! Definitely the hottest of Mudd's Women.

This drawing has been digitally enhanced in order to give it a softer feel and to add some extra punch! The original drawing was okay, but every time I looked at it, it just feels it needs to be darker, especially the dark leather padding on Captain Kirk's chair. So with some quick Photoshop enhancements, I was able to create a more compelling drawing.
My Magda drawing is in the Subscribers Area at full resolution, which is at 3650 x 4128 pixels. Please do sign up for my Newsletter to have access to that area. There are other cool stuffs in there too. But this drawing at full resolution is the latest addition. The sign up is on the right.
How I enhanced it in Photoshop
I took it into Photoshop and duplicated the drawing layer and set the blending to Multiply. Then I applied a slight Gaussian Blur for a softer effect. Then I turned down that layer opacity to about 60% so that it is not too dark. And finally, I painted a mask to bring back the details of the sketch layer. The Photoshop layer looked like this.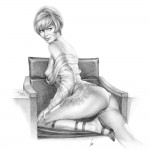 Here is the original drawing without any Photoshop enhancements. The chair is definitely too light. It would have taken a lot of time to darken that with pencils. And it wouldn't be a lot of fun either. Another reason why I love Photoshop!