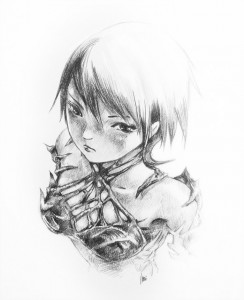 I just stocked up for my eBay store, the manga series titled Biomega. The artist is Tsutomu Nihei. I first learned of him after seeing his old manga series, Blame! What caught my eye was his incredible ink work and architectural vision (I've since learned that he is an architect). His black and white art is absolutely spectacular. It's dark and mysterious, and at times, grotesque. It is definitely not for kids to read. His style is what others describe as cyberpunk. But whatever, I just call it bad-ass art.
The covers are much better on the Biomega series than on the Blame! series. It's got some color work on the cover and the back, which is a nice addition. I haven't read it but it looks very similar to Blame!, or his earlier manga, Noise. The covers inspired me to pick up my pencil; so I did a quick sketch from one of the Biomega covers. Here's how the sketch turned out. Not anywhere near as cool as his.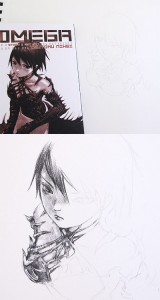 For this drawing, I started without thinking too much about it. Once I had finished sketching in the outlines, I wasn't sure how to shade it. After some back and forth, I ended up with cross-hatching shading. Then I used a 2H pencil for some light shading. It's an odd combination, but whatever, my intentions were to just do something with his art. It didn't matter what.
I wish Tsutomu Nihei would do some more work, because my online searches of him yields very little content. Looks like he did something involving Wolverine from Marvel, titled Snikt! The Tsutomu Nihei facebook page is rather sparse too. A "How to Draw Manga" series by him would be nice=). Anyhow, check him out for inspiration!