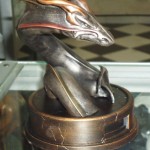 Got an update on my Lady Dragon statue from the factory. They are in the process of creating a paint master. Their painting deviates from what I had originally came up with, but I like what they are doing. Check out the bronze finish that they have created for the base and dragon.
The base looks great with that bronze finish. The dragon (or serpent) looks a lot meaner with this finish; as opposed to the red that I had before. It is definitely going into a different direction, but I like it. The Lady Dragon figure is still in the painting process so I will update that at a later date. With this bronze finish on the base and dragon, I think it'll create good contrast to the softer and sexier feminine form on the Lady Dragon herself.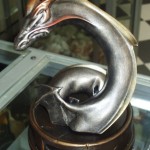 Hopefully I will get more progress on the figure soon so I can show you guys how sexy she is looking. The figure itself has a slightly different color scheme now, but it looks promising.
Here are some previous post related to the Lady Dragon statue.
Lady Dragon at San Diego Comicon 2011