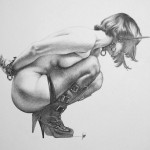 Here is my sexy woman in bondage drawing. It went rather quicker since the last post on this drawing. Click on the images for a larger view.
I decided to leave the shadow areas in her face and hair lighter in order to add some artistic element into it. In general, I don't like to fill dark areas completely black anyways. But I think in making that area lighter, I've given the head less weight, which makes the pull on her neck softer. So it might have worked against what I was working toward in this drawing, which was to recreate the tension that was in the original photograph.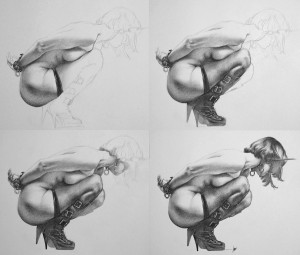 The fingers don't look right so I will change that before I spray this with fixative and call it done. Seeing how this turned out, I think I will do a women in bondage series.
I'll have a full resolution scan of this in the Subscribers Area. Hope you enjoy this as much as I enjoy drawing it.