Sexy Drawing of the deviantArt member dorkypyro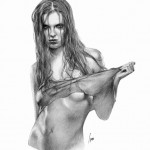 Here is the completed sexy drawing of dorkypyro. This drawing took about 2 1/2 hours to complete. For whatever reason, I just grabbed a 4B pencil and started drawing. Also used a stump for quick shading and a 2B pencil for finer shading. What attracted me to the original photo was her expression; an attitude with some creepiness to it. When I first started it, I didn't know where I would take the drawing or if I would even finish it. Had it not started well, I would have just chuck it in the trash. But it went okay I think, and I'm glad I finished. The attitude came through to the drawing.
The high resolution scan of this sexy drawing is now available for download in the Subscribers Area. I invite you to join me there if you haven't already signed up for my newsletter.
If you want to see photos of dorkypyro, her deviantArt's page is here (warning: nudity). She's got a quite a unique look. Great for quick sketch reference.
Woman in Bondage Drawing Final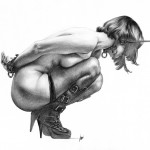 I've fixed the hand on this Woman in Bondage drawing, so now it's all done. Seeing how this came out, I'll definitely do a Woman in Bondage series. Stay tuned for more…thanks, -Wei
This drawing is also in the Subscribers Area.