Avengers Black Widow and Batman Painting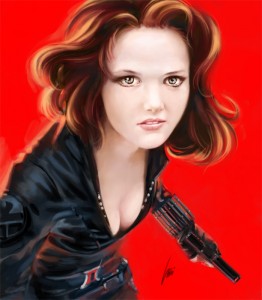 Ever since I got my Wacom Cintiq 22HD, I haven't used anything else to draw or paint. There are so many things I want to paint and experiment with as the painting process is smooth and natural with the Cintiq–as natural as it can be on a computer. I no longer have to struggle with not having hand-eye coordination. If you want to know more about the new Cintiq 22HD. Check out my previous post:
Review of the Cintiq 22HD.
Here's what I been doing on the Cintiq. This Black Widow painting is based on Brooke Mason, an aspiring model. I don't know her but her mom, Tamsin, is a friend of my wife. Tamsin has been supportive in my wife's Pouchy Pals (customized animal plush) hobby. To return the favor, I decided to do a painting of her daughter who is an Avengers fan. I like the way this painting turned out. A beautiful face will always draw the viewer in. The simple red background helps to accentuate her face even more I think.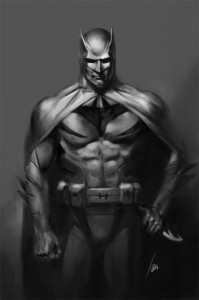 Another quick painting is my black and white Batman. I really don't like the newer Batman designs in the movies. With each Dark Knight movie, the Batman uniform has been more and more heavily armoured. Maybe I'm just old school, but superheroes don't need armour in my opinion. This is a doodle on the Cintiq on my version of the Batman uniform. Looking at this Batman now, it's starting to look like a football player=).
I've also started on another painting, which is a Frankenstein painting based on Basil Gogos' art. His use of colors are incredible. I'll try to replicate some of those vibrant colors in my painting. You can see my initial rough sketch on my Facebook page.