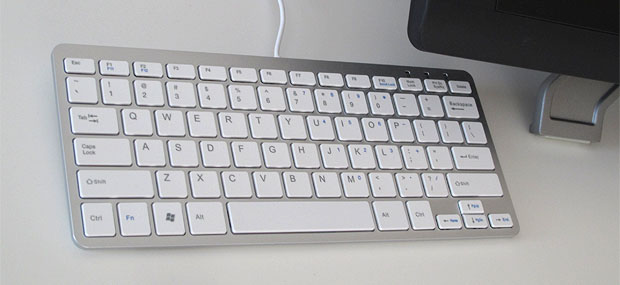 I've been using this GMYLE Super Slim USB 2 Keyboard with my Wacom Cintiq 22HD for a couple of weeks and it is working out great. The Cintiq comes with Express Keys which are useful but I don't think it can replace a keyboard. I suppose the 16 programmable Express Keys would be sufficient for some. But for me, I use a lot of shortcut keys, not only in Photoshop, but in my 3D packages (Maya and Max) as well. I'm surprised I don't get keys mixed up more often. Seriously, I don't need to add a set of keys for the same functions when I can have another keyboard next to my Cintiq. If you're looking for a Keyboard for your Cintiq, you might want to consider this one.
GMYLE Super Slim Keyboard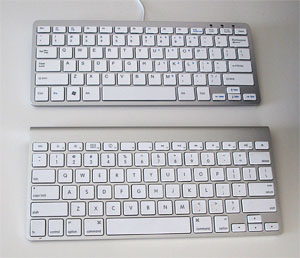 This is a great little keyboard. It measures about 11 inches by 5 inches. Just compact enough for it to sit next to my Cintiq without me having to reach out too far for it. Looking at the image on the right, you're probably thinking, "Hey, that looks like a Mac keyboard!" Yes, its design is very close to the Mac keyboard. In the image, the bottom one is the iMac keyboard, and the top one is the GMYLE keyboard. Obviously it's a rip off from the iMac keyboard. I'm surprised that something this similar in design to the iMac can make it to the market, given how closely Apple guards their designs.
I still use the Express Keys as I find it more comfortable to rest my left hand on the Cintiq Express Keys (I'm right-handed). One thing I can't stand is having my arms out too far to either side–it's just uncomfortable. The Express Keys are great for general navigation in Photoshop–basically Ctrl, Shift, Alt, and Spacebar. Other than that, I use the keyboard.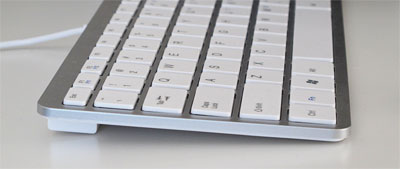 The Cintiq 22HD has a USB port on the left side so it is perfect for accessories like this. Anyhow, this super slim compact keyboard (about $15 total) is working out great so far.