Starting a Blog – How I Got this Blog Started
My blog here is hosted by Bluehost, and they are offering a Black Friday promotion on their hosting service. Their Black Friday promotion details are below, but let me tell you about my experience on why and how I got this blog going.
I started this blog on January (2012) and my experience with Bluehost is worth mentioning. I wanted to have a place to share my art with you and I looked into starting a blog, but I wasn't sure how to do it. I know that there are free blogs that you can setup with blogger.com and wordpress.com, but I wanted my own domain name. Since it's so inexpensive to have a website hosted, I decided to get a paid service. What attracted me to Bluehost was their one click wordpress setup. I wasn't sure how to setup a blog, and Bluehost made it easy. Once you are signed up on your new site with Bluehost, just go to your Bluehost control panel and click on the WordPress button under the Site Builder menu.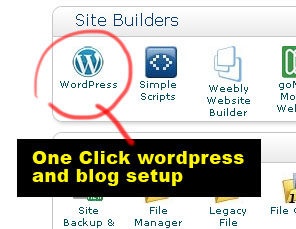 Follow the steps and you're good to go. It's so easy to do it's ridiculous. You can be writing your first post in a couple of minutes. I think they know that there are a lot of people like me that are not too web savvy, so a simple one click setup is the way to go.
Okay, back to their Black Friday promotion. Their regular hosting fee is $4.95/month. From this Black Friday to Cyber Monday, they are taking $1 off their hosting fee. That means it's only $3.95/month. That's an incredible deal for a quality hosting service like Bluehost. I wish I can get that price now for this site.
Anyhow, definitely worth checking out with them if you're looking for a hosting service that offers one click wordpress/blog setup. You can check out the Bluehost rates and services here.
How to Set Up a Blog Within a Website
This is something I found out eventually and felt really stupid for not figuring it out earlier. Say you want your website to be like a regular site and not a blog, but you also want a blog within your regular site. Well, it's really easy. What you do is that you simply install wordpress into a sub directory instead of the root directory. If you install wordpress into your root directory, then your whole site becomes a blog because your site will run whatever is in your root directory. If you install it into a sub-directory, then your blog will only show up when the viewer clicks onto a menu link that directs them to the sub-directory. Most people will name that sub-directory Blog.
So for example, you install wordpress into www.YourSiteName.com/Blog, then your blog will show up only when someone clicks on your Blog link in your menu. When someone first go to your www.YourSiteName.com, it'll read whatever you have in your index.html file just like any other regular website.
The reason I'm mentioning this is that I wasn't able to find this information online. Maybe I wasn't looking in the right places or maybe it's just common knowledge=). Don't know. But maybe you're asking yourself the same thing. So hope this helps and Happy Thanksgiving! -Wei