Lady Dragon Statue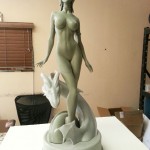 One step closer to getting my Lady Dragon resin kits done! Here is the latest progress on the casting of my statue. All we need are the molds for the dress and it's pretty much there. Once all the molds are made, resin kits will be made available for sale. I'm thinking of an edition of 100. Not sure yet, I'll have to see what kind of demand I get from this. I know many of you have expressed interest in this and subscribers will get a first shot at it. Okay, I might be jumping ahead now, but I'm just so excited about this! Those who have followed my progress on creating this statue knows how difficult of a process it has been. But heck, why do anything that is easy! I always believe that anything easy is not worth doing. Anyhow, I'll document the process of creating a statue from start to finish for anyone who is interested in doing the same. More on that later.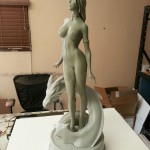 Once the Lady Dragon resin kits are available sale, I'll get back to working on the Red Assassin statue. Though I'm thinking about doing a Lady Dragon bust. I have this image in my mind that I can't shake. The guys at Yamato Toys are telling me that bust are not popular, I have to agree, but then I'm not doing this to have sales, I'm doing this because it's part of my dream!
Hope to have more good news for you soon!