Sketch of Soldier with the Galaxy Note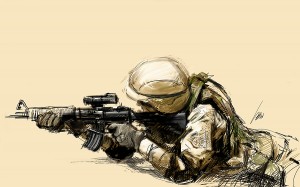 Finally had a chance to play around sketching on my new Samsung Galaxy Note 10.1. There are quite a few of free drawing and painting softwares for the Galaxy Note but I decided to purchase Autodesk's Sketchbook Pro 6 for $5. The thing with free programs is that there's usually a catch, either a trial version or some kind of ad placement. Anyhow, Sketchbook Pro has been around for awhile so it's the natural choice in my opinion. Here's a sketch on the Galaxy Note 10.1. Since it's Memorial Day weekend, a soldier sketch seems appropriate.
Limited Range of Sensitivity with the Pen on the Galaxy Note 10.1
After getting some playtime, I've come to realize that Sketchbook Pro for tablets is a really simple program. That's not necessarily a bad thing. Simplicity works well for mobile devices. First impressions is that the pen is just mildly sensitive on the tablet. I am use to the sensitivity levels offered by the Wacom Intous tablets and the Cintiqs. The pen on the Galaxy Note 10.1 is well below those. I find it difficult to achieve a wide range of pressures with the pen. In order to make lighter lines, I have to change the opacity levels. Just applying a softer touch on the tablet offers only a tiny range of difference. It stills works, just not impressive like the Cintiq. Then again, this is a $400 tablet computer compared to a Cintiq monitor for $2000. So comparing the Galaxy Note to the Cintiq is probably not a valid comparison.
Sketching is Fun on the Galaxy Note
Once I got over the limited pen sensitivity, I really enjoyed sketching on it. You find ways to adjust your workflow according to the hardware and software. I ended up just using the pen tool for solid lines and started sketching. It's really fun. The lag is noticeable, but not a deal breaker. Screen size is small but workable. The screen resolution for sketching is sufficient. The fact that it is portable and you can have it up and running in a few seconds is incredibly convenient. I'm afraid that I might not pick up a pencil anymore for sketching.
I'll have more reviews on the sketching and drawing on the Galaxy Note later as I play with it more. But these are just my initial thoughts.