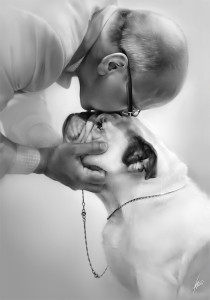 I never thought I would be painting a dog but there's a first for everything I suppose. I had my hesitations on this commission piece, mainly due to the subject matter. Painting fur is a tedious process. But I got through it and I'm glad I did. It's nice to do something new once in awhile.
This owner loves his dog. And only after I started to paint and having to look at the original photo for a long period of time did I finally started to feel how much he loves this dog. And it's that love that I wanted to show in this painting as well. That was my focus. If you can feel the love he has for this dog, then I would have succeeded. That is what motivated me to push myself and finish this piece.
As usual, this was painted in Photoshop using the Soft Airbrushing technique. I didn't make a video of the painting, but I did manage to save off snapshots of the painting throughout the process. The image is below.
The Painting Process