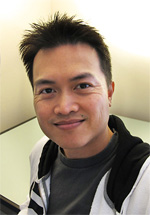 Hi, I'm Wei. I am an artist, and art has been with me as far as I can remember. I can still remember the tanks I drew when I was 5 years old. Professionally, I started my career in 1994 doing character concepts art at a start-up game company. Then journey through many companies, mostly in game, independent film and VFX in feature films, sucking up knowledge wherever I go. I became a pretty well rounded artist. My online portfolio is here, WeiArts.com. My life started to change once I started freelancing in 2008. The cure from the daily commute and the time constraints was liberating to say the least. It cleared my mind. I became much more creative. And for once, all the things I have always thought about doing seems to be in reach.
At the beginning of 2011, my second freelance project with Disney Imagineering ended, so I kicked all my pet projects into high gear. I grew my online collectible toy retail business, HeroKingdom, which I started in 2005. I've always love collectables and this was my way of being a kid again. Even way back, I have dreamed of making my own statues. Now it is a reality. My first statue, the Lady Dragon, was released in 2014 with Yamato's help. Now I am intently focused on creating more statues.
Between those two things and family life with 3 young kids, I have managed to start drawing again. It is like getting back to the basics. Drawing has always been my passion. But in the past, I have never given it enough time and effort to see where it can lead to. I know I can draw, but I don't know how well. I need to find out.
So this is what my blog is about. It is about all the things I love to do. It is all the things that I would do if you stripped away all of life's demands. I don't know where it will lead to, but I am having the time of my life doing it.
Thanks, -Wei Ho
I'd love to hear from you. You can email me at weiho@dslextreme.com
You can send quick messages and join in on the conversation on my Facebook Page.