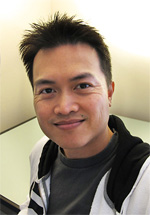 Wei Ho has been drawing for pretty much all of his life, but his profession in art became fully realized in 1994 doing character concepts for a start-up video game company.
His talent and skills placed him at many companies, doing concept designs, 3D modeling, animations and VFX in both the video game and in the movie industries.
His work has been featured in such movies as: The Mummy 3, Superman Returns, The Chronicles of Riddick, X-Men 2, Garfield the Movie, and Serenity. For a full credits list, check his IMDb page. His dynamic skill set has also given him the opportunity to create attractions for Disney Theme Park attractions.
Today, Wei focuses his talents and skills in creating his own line of figurines that are produced by Yamato Toys, while also running his own online retail store called HeroKingdom on Amazon and eBay.
Wei also provides drawing tutorials on his YouTube channel to help artist all around the world.
You never know what he will do next, but whatever it is, it is something he loves doing.
Facebook Page
Instagram
youTube Channel

Resume
Toy Sculptor/Designer 2011 to Present
Greek Myth Collection (1/6 Scale Resin Statues) – Yamato Toys USA
Hera, Athena, Aphrodite
Asian Mythology Series (1/6 Scale Resin Statues) – Yamato Toys USA
Lady Dragon, Red Assassin, Phoenix Archer, Lady Samurai
Magic PlayFloor – Walt Disney Imagineering / Craniac Inc.
Art development – Summer 2009 to Spring 2011
2nd project with Walt Disney Imagineering and Craniac. I worked on art development on The Magic PlayFloor for Walt Disney Dream (and Fantasy) Cruise Ship. The Magic Playfloor consist of a dozen games played on 28 monitors laid out on the floor. The players interact by stepping on the sensacells around the monitors. Games include Tron's Disc Defender, Carl's Stomp 'n Pop, Stitch's Leaping Laser, etc. Developed all assets, from concepts to final art.
The Great Piggy Bank Adventure – Walt Disney Imagineering / Craniac Inc.
Art development – Summer 2008 to Summer 2009
Art development for Epcot's Innoventions attraction called The Great Piggy Bank Adventure. The attraction features a series of entertaining games that bring to life and teach key financial themes of setting goals, saving and spending smartly, staying ahead of inflation, and diversifying your investments. I developed the style and look of the game as well as all in game arts, which includes everything from screen designs to 2D art to a fully rendered animated pig that guides you through the games. The Great Piggy Bank Adventure opened on May of 2009.
Rhythm & Hues Studios Staff Lead Modeling TD – 7/02 to 6/08
The Mummy 3 (2008) – Modeler TD
The Golden Compass (2007) – Textures
Evan Almighty (2007) – Modeler
Superman Returns (2005) – Modeler
Serenity (2005) – Lead Modeler
Elektra (2004) – Lead Modeler
Flight of the Phoenix (2004) – Modeling Supervisor
The Chronicles of Riddick (2004) – Lead Modeler
Garfield (2004) – Modeler
The Cat in the Hat (2004) – Lead Modeler
The Rundown (2003) – Modeler
X-Men2 (2003) – Modeler
DareDevil (2003) – Modeler
Various Freelance Projects
Carsey-Werner-Mandabach: 'Game Over' character concept designs
Disney Imagineery: Magic Mirror, Mars Explorer
Nickelodeon: RocketPower, Dora's Soccer Game
3DGroove: Michelob Golf
Yaya: Jeep, Disc Dogger
Wildspace: Wildspace Trailer, concept to 3D realization.
Digital Dimensions: Hot Ticket
3DGroove Lead Artist – 6/00 to 2/01
3DGroove is an online game company. Lead artist for Showdown, the gunfighting game. Released to Intel as a Pentium4 demo game. Character concept work and low-poly modeling and texturing and animations. 3D art for Nickelodeon's Otto's Killer Carvin Snowboard.
NueArt Pictures Senior Artist/Animator – 4/98 to 5/00
I was one of first two employees to join this startup 3D independent film company. Modeled and textured most of the main character, uniforms, environments and ships, with emphasis on look development. Also animated many scenes. Film title: Aerotroopers (DVD, 2004)
DreamWorks Interactive Artist – 8/97 to 3/98
Modeling and Texturing real-time models for Trespasser, Spielberg's Jurassic Park game for the PC (1998).
Adrenalin Entertainment Senior Artist/Animator – 3/96 to 6/97
Lead artist for Into the Void (1997), a PC strategic space simulation. Job duties included modeling, texturing, animations, interface designs, and scheduling and overseeing design and art assets.

TecknoCrest Inc Lead Artist – 3/94 to 3/95
Worked on Farstar, a Sony Playstation game. Job duties includes concept, modeling, texturing, and animations.

Resume in Pictures
If you have scrolled down this far, the least I can do is to offer you some visuals. Below are some of the images from my previous works and projects.