Best Tools for Graphite Pencil Drawing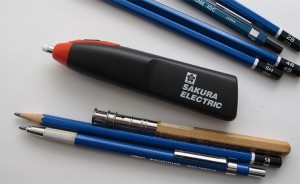 This is the Sakura Electric Eraser I bought this thing in my college days and it is still working like new. Amazing quality. This Sakura brand is expensive. The only reason I bought this one was that I saw the great Hajime Sorayama using it. There are other brands that is over half the price of this one. If I were going for a cheaper one today I would probably pick the Staedtler brand electric eraser, as they make awesome graphite pencils, and has a proven track record of quality.
In terms of use, you are going to need an electric eraser for your drawings. Aside from using a dab of white paint over your drawing, there is no other way to get back the bright highlight if you have shaded it too dark. Only this little thingy will do.


I have three mechanical lead holders that I use. Each one houses a different graphite lead, a HB, 2B, and 4B. These are great to have around and use as the lead refills are cheaper than the wooden pencils. It does not feel or sound as good as the wooden pencils, but it still works great. It is also very convenient for when you are on the go. The leads retract so these are no mess in your backpack. You don't even need to sharpen them. The leads are thin enough where when it is rounded, it still offers a semi-sharp point.


Staedtler Lead Holder – Amazon.com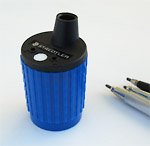 If you have to sharpen the lead, this is what you need. Their fancy name is Rotary Action Lead Pointer. Whatever, it's a lead sharpener.

Staedtler Mars Rotary Action Lead Pointer – Amazon.com


There are many different brands of graphite pencils out there. Some are better than others, and you do get what you pay for. The Staedtler Mars Lumograph pencils are great. Their pencils feels solid in my hand. It is the only brand I am using for important drawings. They are the more expensive pencils, but it is worth the price.
You don't need a lot of degree variations. I mainly use the HB, 2B, 4B and 6B. Sometimes I will use the 2H for very light shading, and the 6B for heavy dark shading. You do want to have a range of degrees just in case you need them, but the common ranges is from HB to 5B. The harder pencils last a long time, but the softer ones will scrap away like butter. So get multiples on the higher degree pencils.
Staedtler Mars Lumograph Drawing/Sketching Pencil 2B 12 pieces – Amazon.com
The Cheap Stuff
If you are a beginner, there are plenty of different brand pencils that you can get for a ridiculously cheap price. They are not as good as the Staedtlers but the price is just right for experimentation. If you just want to mess around and not concern yourself with the cost, then these are good packs to get. I have some Dervent Graphic Pencils that I use for that purpose. With the cheaper pencils, you will feel the difference in the lead, as they are fluffier and tends to grind and leave behind little chunks once in awhile. And you have to be careful when you sharpen the really soft degree ones, like the 8B, as they might break during the process.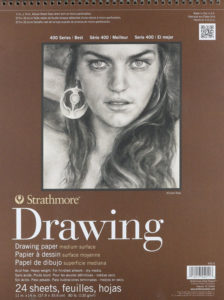 For graphite drawing papers, what you want to look for is the weight of the paper. The heavier the paper, the thicker it is. Why do you want it so thick? First off, the obvious reason would be that thicker papers are more durable. But more importantly, it is because the thicker paper withstands the fixative (Krylon 1306 Workable Fixatif Spray) that you might want to spray on to protect your graphite pencil drawing. If you intend to keep your drawing for a while or put it up on display, you will need to coat it with fixative to prevent the graphite from being smeared. Spraying fixative on thin paper will result in wrinkling of the paper.
For general drawings, 65 lbs paper works well. It is thin enough that you would not care as much if you end up throwing it away. For drawings that you might want to keep and archive, 80 to 100 lbs would be preferable.
As for the brands of the papers, they all seem to work well. Art stores will mostly carry Strathmore and Canson as they are the more popular brands. But really, anything will do.
Strathmore Medium Drawing Spiral Paper Pad 11″X14″-24 Sheets
Canson Artist Series Universal Sketch Pad, 9″X12″ Side Wire
These are my primary graphite drawing tools. Hope this helps, -Wei