I'm going to switch gears a little and take a break from the drawings and talk about my Lady Dragon Statue.
As I am working through issues and details with the factory on the manufacturing of my first collectible statue, The Lady Dragon, I want to show you some of my 3D modeling process. Looking back, it really was a trial by fire. I have done 3D modeling at various times throughout my career. But it wasn't until I worked as a 3D modeler for feature films did I really sharpened my modeling skills. It took everything I have learned in my previous work experience to actually get to this point. My process might seem a little odd to other model makers, as I don't use clay, zBrush or Mudbox exclusively. My modeling is mostly done in Maya. So anyhow, here is my process.
Making the Lady Dragon Statue
(Click on image to enlarge. Thumbnails has been cropped)
It all starts with the face. This is done in Maya. 90% of the modeling was done in Maya. This initial stages of the face is rather crude and very low poly, but that is how all my modeling starts. I start with a very low poly stock model that I have in my references. Then start building more and more forms and details to it.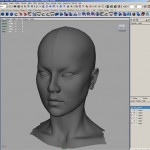 Here is the refined face with more anatomically correct features. Reference is everything and these were some of the pretty faces that I have referenced. The 3D model has been subdivided. All my modeling starts with low geometry and ends with medium res geometry. If you are not familiar with 3D modeling, this sounds like mumble jumble, but that's okay, it's not important for this post.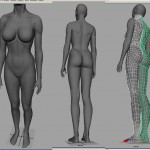 After the head is somewhat done, I move onto the body. I have many base models to start from for the female body, but what you see here has been heavily modified to fit my needs. For posing, I use 3DSMax. That is the program I am most familiar with. I use that for rigging, animations, lighting and rendering. I only use Maya for modeling as their modeling tools, in my opinion, is better than 3DSMax's.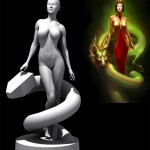 Here I have her rigged and posed and started on placing in the dragon. Working the dragon into this statue was a real challenge. The curl of the dragon in the painting looks fine, but it does not translate well into 3D. Had I posed it like it is in the painting, the dragon would have been too large and would definitely overpower the figure. My main focus is her body and pose, so I had to trim down the dragon.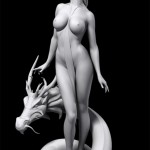 This is much closer now. The step from the previous image to this stage is HUGH. Massive amounts of modeling to get that generic body into this body where the musculature is anatomically correct for her pose. The most difficult process was in this stage. References are CRUCIAL at this point. Your muscle changes with each movement, and if you don't get it right, your statue will look DEAD and WEIGHTLESS. I'm not a master statue sculptor, so I struggle with this a lot. But with good references, it is very doable. The original dress design was to be a simple thin drape down her body leaving her breast exposed. I was advised to cover up the breast so that it will be marketable to a larger audience. Subsequently, the dress design was changed to cover up the breast, but with a cast-off feature. Best of both worlds I guess.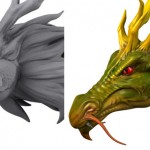 This is the dragon design that I started with. It is based on the traditional Chinese dragon design, as it was in my painting. The details were added in using Mudbox. I know most people use zBrush, but Mudbox was the software that I have used when I was working on the Hulk feature film. So Mudbox was the natural choice for me. The right image is the dragon with texture. That was also painted in using Mudbox.
Finally, my first version of the Lady Dragon was complete. Fully modeled and textured in 3D. The base is relatively simple looking, which was my intention so that it does not distract from the main focus of the statue, which is her body. If I do have any style, it would be that I like to keep my art simple.
Another big jump here as this is the final model for my Lady Dragon statue. The dragon was changed completely in order to make it more modern. The previous traditional Chinese dragon looked more and more like an ornament that you would pick up at a souvenir store. Overall I think it was a positive change. The new dragon design is sleeker and looks more bad-assed. Another step forward was the face. It might be hard to tell between this and the previous image, but the face was improved drastically. My previous Asian features were too light. Though it looked okay in the rendering, her features would have faded away as a physical statue. Therefore, her final facial features were emboldened, while still keeping her Asian look. Base was also simplified a step further.
That's it for now. Hope this was interesting to you. There were a lot more steps in between but this is the meat of it. It was a hell of a lot of fun modeling this. It is awesome to see your own creation come to life! I love making my own creations because a lot of my ideas come during the process and not before. I just go and enjoy the ride and see how it comes out. I think this Lady Dragon statue worked out quite well. Now I just need to get all the little kinks worked out with the factory so that I can concentrate on modeling my next statue which will be the Red Assassin Statue, Thanks, -Wei