Following my Black Widow painting for my wife's friend, I had a couple of request to paint them as superheroes as well. Since the subject matter was what I wanted to paint, I ended up doing a couple of commissions on it. I painted them on the Wacom Cintiq 22HD.


Wonder Woman and Witchblade Paintings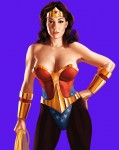 For this Wonder Woman and Witchblade paintings, the process was similar. I started with their portrait and then I would find a suitable pose for them my reference library. Rarely does the reference matches exactly what I want it to be. But that's okay because what I'm after are lighting references. I'll try to figure out the lighting based on any pose changes from the reference. I use to be horrible at this but with practice, I can see that I'm getting better at making things up. Still feels awkward but it's getting there.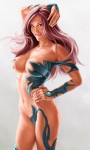 With the Witchblade painting, the portrait was from a flash photo, resulting in flat lighting. I had to change it to what you see here, with the lighting from the side. That was the trickiest part. I'm calling this Witchblade because it was referenced from that character. I played around with it and did my own costume. It's closer to the Japanese version of Witchblade, Takeru.
If you're interested in such a painting for yourself, I am open to commissions. It's not something I've done a lot in the past, but now that I'm getting back to painting, I'm more open to the idea. Sexy ladies only. Just contact me.