This section is dedicated to the development of my Lady Dragon statue. If there was ever a labor of love for me, this is it. Please check back soon as this page will be updated whenever any significant progress has been made on the development.
10/17/13 – Lady Dragon Pre-Painted Statue Update
I have great news! Yamato has decided to pick up the production of my statue! They have been working with their factory in China to produce this into a full blown pre-painted statue. This was what I've originally hoped for, but it didn't go as planned. That's why I had taken the path of making resin kits first. But now that Yamato has pick this up again, I'm right back on track. Talk about a roller coaster ride.
Fixes from the Factory
The factory has been doing fixes to my statue to make it work for their production line. It's been quite a learning experience, to say the least. Now I know what to look out for when designing statues. This will no doubt help make my second statue, the Red Assassin go more smoothly. That one is still in the modeling stage. I'll get back to modeling on that once the factory has this Lady Dragon on their assembly line.
Here are some photos from the factory. It's really looking as good as I've hoped. But they are not done yet. More details will be sculpted in as my copy that they were working from has lost some of the finer details. But all the major issues are fixed and this is how it looks now. The dress is fitting nicely to her boobies. And yes, that does cast off. Those additional rings you see on her body, well, they're to make it easier to assemble.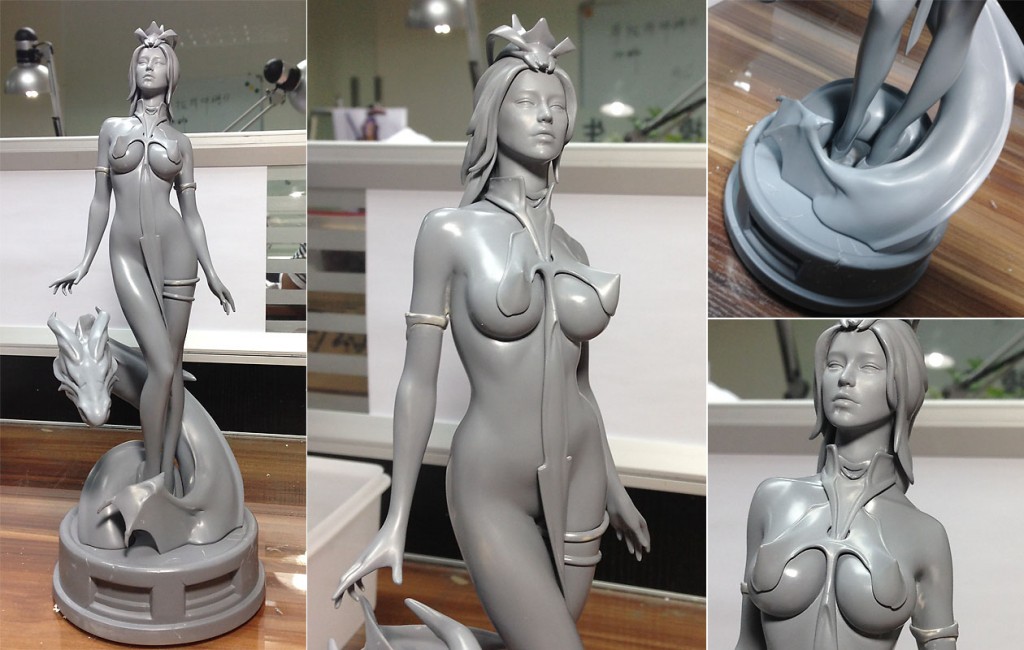 After they are done sculpting back in some of the lost details, they'll be working on a paint master for her. Check back soon, thanks, -Wei
4/5/13 – Lady Dragon Resin Kits Update
Latest pics from the caster. He just needs to create the molds for the dress and it's there.
2012 – Lady Dragon Statue – Prototype Images
This is the painted prototype of my Lady Dragon resin statue. This will be the very first statue in my line of statues based on my artwork. It's all about sexy Asian ladies=). Started modeling at the beginning of 2011 and basically when through many revisions to get it looking right. With the help of the good folks at Yamato Toys, I was able to get it to this point. They really know their stuff.
The Lady Dragon comes with cast off abilities, and it will go the full monty.The extremely thin dress has been an issue and has currently been redesigned. You can see the new dress design–> New Horn Dress Design. Now I'm looking at a release date at the end of this year. I will announce more solid release dates as they become available. So please stay tuned or sign up for my Newsletter so that I can keep you up to date on my developments, as well as some cool freebies. Sign me up.
3D Modeling on the Lady Dragon Statue



Want to see how I modeled this? Here is the link to the post where I talked about the modeling process.
3D Modeling on the Lady Dragon Statue